Roper Whitney Mounting Base for No. 12 Punch - 139030120
Brand: Roper Whitney
SKU:
139030120
ID:
93231
| | |
| --- | --- |
| Capacity (Tons) | 7.3 |
| Shipping weight | 6-1/4 |
Roper Whitney Mounting Base for No. 12 Punch
Medium Duty Portable Punches, rotary ball bearing operated, that extend the capacity offered in the Roller Bearing punches 50% while maintaining an equally portable size and weight.
Maximum Rated Capacity:* 7.3 tons
Two Handle Rotary Ball Bearing Operation
1/2-inch Punch Movement in a 360° Revolution
These punches use rotary ball bearing operation to provide punching capacity in the medium duty range, beyond the capacity of linear operation punches. The two punches are similar, except for the deep throat dimensions of the No. 12 to punch up to 2 1/4" from the edge and accommodate angles, channels, and flanged materials.
Options include a ratchet handle to permit operation in close quarters and a base attachment for bench mounting.
* Refer to the Tonnage Chart to determine if the rated capacity of this tool will accommodate the type and thickness of metal and the size and shape hole that you will be punching. Do not, under any condition, exceed the rated capacity of this tool.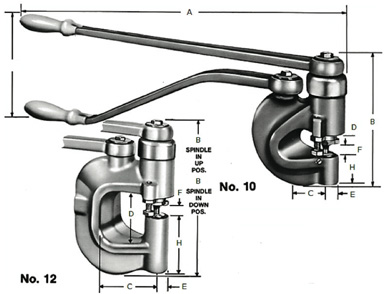 Reference
No. 10
No. 12
A
19-1/2in. / 495.3mm
19-1/2in. / 495.3mm
B

Spindle Up
Spindle Down


6-3/4in. / 171.65mm
6-1/4in. / 158.75mm


8-5/16in. / 211.14mm
7-13/16in. / 198.44mm
C
1-1/2in. / 38.1mm
2-1/4in. / 57.15mm
D
1-1/8in. / 28.58mm
2-1/8in. / 53.98mm
E
5/8in. / 15.88mm
19/32in. / 15.08mm
F
3/8in. / 9.53mm
3/8in. / 9.53mm
G
2-5/8in. / 66.68mm
2-7/8in. / 73.03mm
H
1-3/8in. / 34.93mm
2-19/32in. / 65.88mm
Ordering Guide
Item No.
Shipping Weight
No. 12
No. 12
Mounting Base
139030120
6-1/4
Roper Whitney Mounting Base for No. 12 Punch - 139030120
Roper Whitney Mounting Base for No. 12 Punch - 139030120