Kurt DoveLock Dovetail 5 Axis Vises

The DoveLock™ DTR20 5 axis dovetail vise from Kurt Workholding is designed to handle the toughest machining operations. Manufactured from pre-hardened 4140 steel, our DTR20 dovetail vise maintains part rigidity and minimizes deflection/clamp creep during high-pressure machining.

The unique design of this dovetail workholding device, which positions the clamping screw high up in the clamping envelope, is the key to deflection reduction. Additional anti-deflection control is achieved via the movable jaw slide which is retained within the stationary jaw.

Features:
DoveLock™ dovetail vise for 4 and 5 axis CNC machining with access to five sides of the workpiece

Manufactured from pre-hardened 4140 steel, the DoveLock maintains part rigidity and minimizes deflection or clamp creep when under high machining pressure

Reversible models allow for a wide range of dovetail widths

High clamping screw location reduces deflection

Movable jaw slide is retained within the stationary jaw and creates more anti-deflection control

Embedded locating pin keeps part location accurate when applying side load pressure

Models available: Standard model DT20. Reversible jaw models DTR20 and DTR10

Mounting base has pre-configured hole pattern to fit most machines

Easy part prep requires only 1/8" of material to hold workpiece in place

Movable and stationary jaws are matched pairs

Lifetime Iron Clad Warrant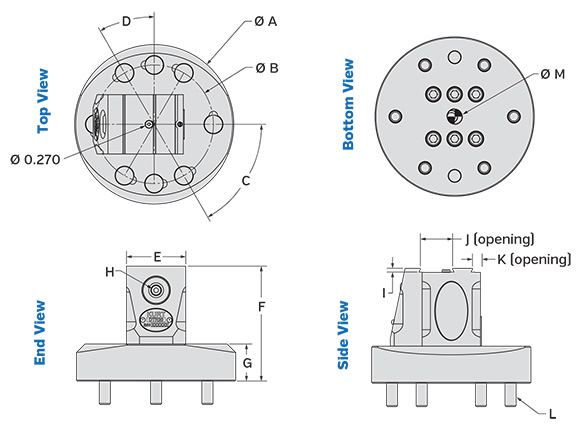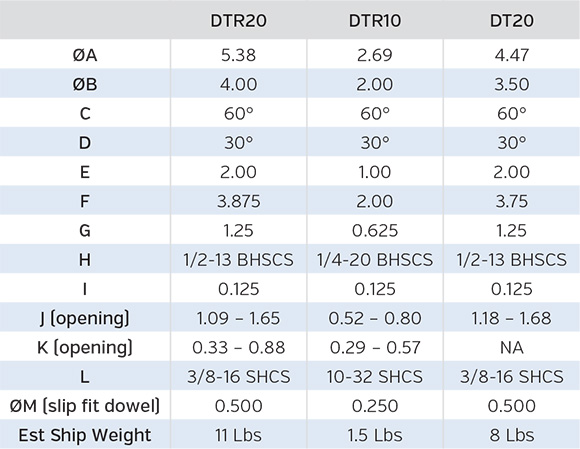 CLAMP FORCE DT20 DTR20
Inch Pounds
Pounds of Force
80
1,000
160
2,000
240
3,000
320
4,000


Riser Base DT20-1 Specifications:

| | |
| --- | --- |
| Riser Height | 1.250" |
| Riser Diameter | 4.47" |
| Weight | 5 lbs. |
Kurt DoveLock Dovetail 5 Axis Vises
Kurt DoveLock Dovetail 5 Axis Vises