PBA Super Thin Low Profile Square Chuck - MCA6

Features:
Universal scroll chuck design

End-surface clamping design enables fast efficient mounting of several chucks to a worktable

Super thin design allows greater Z-axis machining

Elongated slots allows fast and easy positioning on worktable, simply use standard T-bolts, versus mounting connecting plates required by conventional chucks

Milled key-slots on the base plate allows accurate quick changing of the chucks

Ideal for pallet applications, Standard Mills, Vertical Machining Centers, Angle Plates, Tombstones, and Grinding Machines

American Standard, hard top and master jaws

One year warranty

Specifications:
Super Thin Low Profile Square Chucks
Gripping Capacity
Model
Approx Weight
External
Internal
Min.
Max.
Min.
Max.
MCA6
25 lbs
.16"
5.04"
2.17"
5.04"


Dimensional Data (in inches)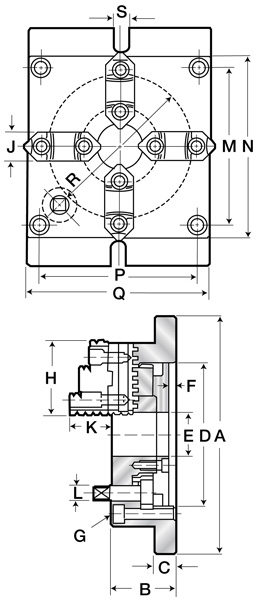 Model
MCA6
A
8.46
B
2.24
C
0.71
D
5.12
E
1.57
F
0.22
G
4-M10
x1.5P
H
2.68
J
1.02
K
1.54
L
.551

*

M
5.67
N
6.5
P
5.67
Q
6.5
R
2.6
S
0.71

* Square Drive


See all PBA Super Thin Low Profile Square Chucks, Series MCA
PBA Super Thin Low Profile Square Chuck - MCA6
PBA Super Thin Low Profile Square Chuck - MCA6