Royal Low-Profile Accu-Length™ CNC Collet Chuck, 5C, 140mm Spindle - 42336
Brand: Royal Products
SKU:
42336
ID:
349167
| | |
| --- | --- |
| Collet Type | 5C |
| Spindle Type | 140 mm |
| Capacity | 1-1/16" |
Royal Low-Profile Accu-Length™ CNC Collet Chuck
5C, 140mm Spindle - 42336
These chucks utilize spring-type collets and therefore do not provide the parallel grip functionality or wide gripping range of our Quick-Grip™ models.

Dead-length operation - sleeve pushes forward to compress the collet, providing precise z-axis part positioning.

Low-profile nose offers outstanding tool clearance.

High RPM
All Royal CNC collet chucks are balanced by design for high-speed operation, and can often be run at higher speeds than conventional 3-jaw chucks because they are less prone to the negative effects of centrifugal force.
Dead-Length Operation
Royal Accu-Length™ CNC Collet Chucks incorporate dead-length operation to eliminate part pullback. With this design, a tapered sleeve pushes forward over the collet to compress it, resulting in precise z-axis positioning.
Outstanding Rigidity
All Royal Accu-Length™ Collet Chucks have been optimized for maximum rigidity, and all components are hardened for strength and durability.
Spindle Bearing Protection
An oversized flange acts as a coolant slinger to protect lathe spindle bearings from contaminants.
Low-Profile
All external dimensions have been optimized to provide maximum tool clearance.
Bolt & Go™
Our exclusive Bolt & Go™ mounting feature is standard on all Royal Low-Profile Collet Chuck models. Bolt & Go™ enables chucks to be mounted very quickly and ensures maximum accuracy and rigidity.
High Accuracy
All Royal Accu-Length™ CNC Collet Chucks are guaranteed to run within 0.0002" TIR.
Completely Sealed
Lubricated for life, these chucks incorporate multiple O-ring seals to keep contaminants out and prevent chip pack-up on bore-thru applications.
Easy Installation
All Royal Low-Profile Collet Chucks include a collet wrench, lubricator, mounting hardware, mounting wrenches, and a custom-machined drawtube connector for hassle-free installation.
Wide Range
Royal manufactures a wide range of Accu-Length™ Collet Chucks to fit all popular spindle noses and collet styles.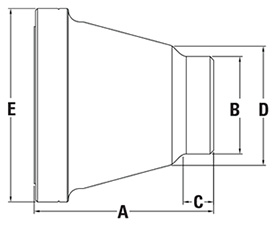 Specifications:
| | |
| --- | --- |
| Item Number | 42336 |
| Collet Type | 5C |
| Spindle Type | 140 mm |
| Capacity | 1-1/16" |
| A - Overall Length | 4.45" |
| B - Nose Diameter | 2.43" |
| C - Nose Length | 1.00" |
| D - Body Diameter | 4.00" |
| E - Flange Diameter | 6.45" |
| Chuck Weight | 13 lbs. |
| Max Drawbar Force | 4,000 lbs. |
| Max Clamping Force | 13,600 lbs. |
| Max RPM | 6,000 |
Royal Low-Profile Accu-Length™ CNC Collet Chuck, 5C, 140mm Spindle - 42336
Royal Low-Profile Accu-Length™ CNC Collet Chuck, 5C, 140mm S…